GoodYear and Pirelli Mail-In Rebates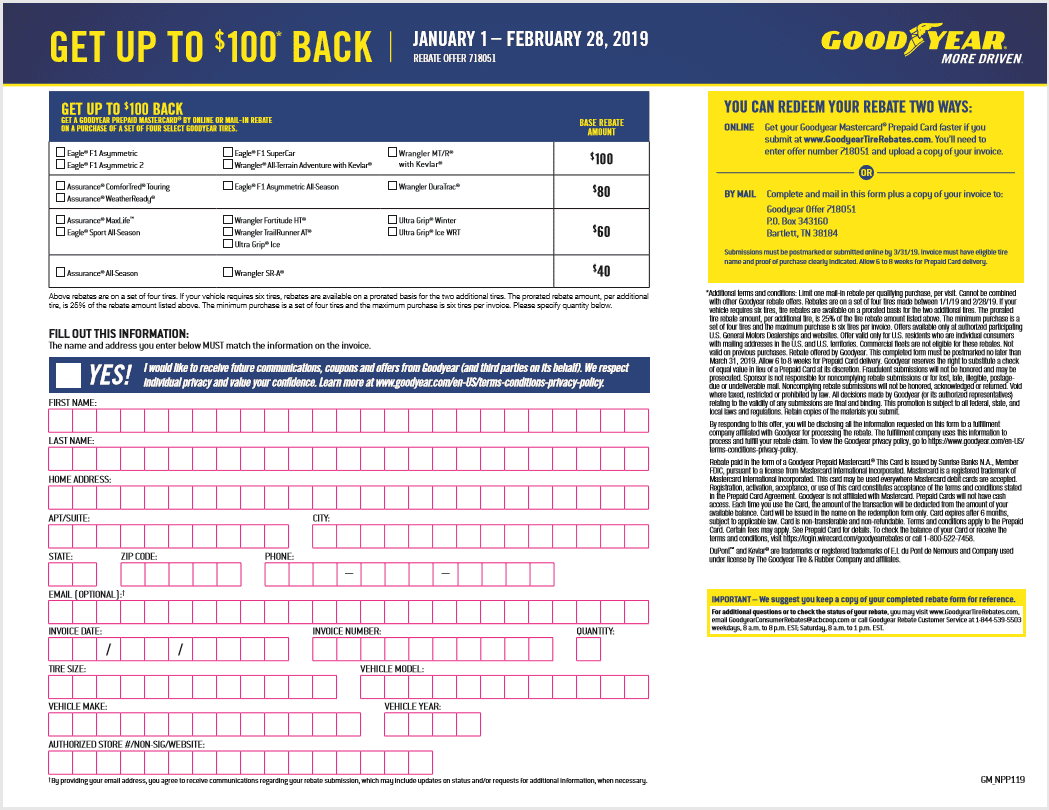 This month at Smail Buick GMC, take advantage of up to $100 mail-in rebates on select Goodyear and Pirelli tires.
Get up to $100 in rebates with the purchase of a new, matching set of four select qualifying Goodyear tires. The rebate will be paid in the form of a Prepaid Mastercard Card.
The following Goodyear tires qualify for a $100 rebate:
Eagle F1 Asymmetric
Eagle F1 Asymmetric 2
Eagle F1 SuperCar
Weangler All-Terrain Adventure with Kevlar
Wrangler MT/R with Kevlar
The following Goodyear tires qualify for an $80 rebate:
Assurance ComforTred Touring
Assurance WeatherReady
Eagle F1 Asymmetric All-season
Wrangler DuraTrac
The following Goodyear tires qualify for a $60 rebate:
Assurance MaxLife
Eagle Sport All-season
Wrangler Fortitude HT
Wrangler TrailRunner AT
Ultra Grip Ice
Ultra Grip Winter
Ultra Grip Ice WRT
The following Goodyear tires qualify for a $40 rebate:
Assurance All-season
Wrangler SR-A
Get $70 in rebates with the purchase of a new, matching set of four select qualifying Pirelli tires. The rebate will be paid in the form of a $70 Prepaid Mastercard Card. Qualifying tires include the following Pirelli Scorpion Tires:
Scorpion ATR
Scorpion MUD
Scorpion STR
Scorpion VERDE
Scorpion VERDE ALL SEASON
Scorpion VERDE ALL SEASON PLUS
Scorpion ZERO
Scorpion ZERO ASIMMETRICO
Scorpion ZERO ALL SEASON
Scorpion ZERO ALL SEASON PLUS
Scorpion ALL TERRAIN PLUS
Scorpion ICE & SNOW
Scorpion WINTER