Meet the Engineer Behind the Newest Feature in GM's SUV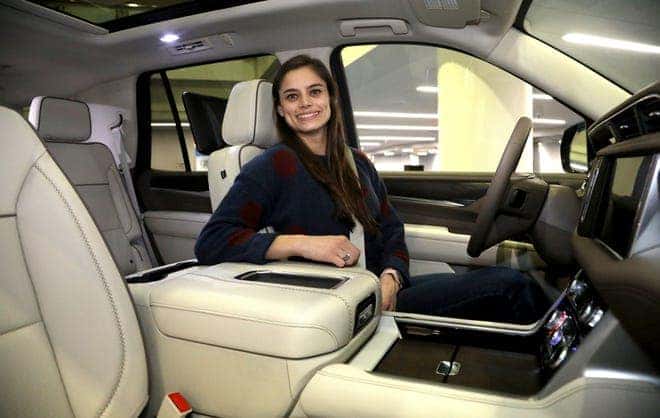 Meet Alex Archer, the engineer behind GM's newest interior upgrade. Archer came up with, and worked on an innovative power console that can slide back and forth to reveal more storage space. The power-slide console will be available in the 2020 GMC Yukon and Yukon XL, the 2020 GMC Denali, and the 2020 Chevrolet Tahoe and Suburban on upper trim levels.
In 2017, the General Motors engineering department called for a meeting with select engineers. At that time, Archer was fresh out of college and had no idea what to expect from this secret meeting. "They told us to please come up with this invention because we want to incorporate it in our next big SUVs," said Archer.
Her idea was a power-sliding center console, the first center console to be motorized. It can form different configurations, has a hidden compartment, extra storage, and can convert to an armrest. The bosses gave her 36 months to bring her idea to life.
What Does it Do?
By pressing a button above the rearview mirror, the power sliding console will:
Move back by up to 10 inches creating more storage between seats
Move the armrest back revealing a space large enough to hold 4 gallons of milk
Move the top armrest forward where it can still hold 3 gallons of milk
Reveal a drawer that can be used for 'hidden' storage when the console is slid forward
Move the console cup holders deeper into the second row for easier passenger access
Slide back closed, where it becomes a traditional center console and armrest
"The biggest thing is how much storage it will give," said Archer. "It gives an additional 10 inches of storage space between the passenger and driver seat, which doesn't sound like a lot until you see it."
About the Inventor
Archer grew up in southern California with a family full of problem solvers. She attended Stanford University with the intention of becoming a doctor but after taking a design-thinking course during her freshman year, her mind was changed. In that class Archer and a few classmates had two weeks to invent a machine using only styrofoam blocks, poster board, rubber bands and a hot-glue gun.
"It was so creative," said Archer. "That was the big push for going into engineering. It's having an idea and bringing it to life." The other push was her grandfather, her best friend and mentor. During her sophomore year of college, her and her grandfather rebuilt the engine on a 1937 MG and that's when he suggested she should be an engineer for a car company.
Although her grandfather was a Ford Motor Company fan, Archer was inspired by the CEO of GM, Mary Barra. Archer was inspired by Barra's vision for GM; a future with zero crashes, zero emissions, and zero congestion.
Archer was also inspired by the fact that Barra is a female in a business that is predominantly male. She followed how Barra steered the company through one of the deadliest recalls in U.S. history: GM's ignition switch crisis, which left 124 people dead after faulty ignition switches shut off the engine while the vehicle was in motion, preventing air bags from inflating.
Now, Archer said, Barra wants to change the industry with autonomous vehicles, electric cars "and she's hiring young people. … It all really resonated with me. When it came to picking my job, it came down to Ford and GM and it ultimately came down to the CEO."
Top Secret
The power-sliding console was Archers idea, but she worked with dozens of designers and almost 10 different suppliers.
"It took a ton of people, I'm just somebody who stuck with it the whole time," said Archer. "There were electrical folks that helped us, designers, tooling, engineers and beyond that because you have to make sure you're hitting all your milestones."
The team had to keep the project top secret and spoke using code names. Archer even had top hide various prototypes in her closet. She said the hardest part was keeping this exciting news from her family.
"I was so excited to show my parents what I was working on," said Archer. "My grandpa was very proud. He loved hearing the difficulties I had and how I overcame them."